Human trafficking is a form of modern-day slavery in which traffickers use force, fraud, or coercion to control victims for the purpose of engaging in commercial sex acts or labor services against his/her will.**
Human trafficking is all about making money off of people's bodies whether they are using them for sex or labor. It's no respecter of persons, gender, race, or even age. There are several types of it:
Labor Trafficking (Forced Labor): is the recruitment, harboring, transportation, provision, or obtaining of a person for labor or services, through the use of force, fraud, or coercion for the purposes of subjection to involuntary servitude, peonage, debt bondage, or slavery, (22 USC § 7102).
Sex Trafficking: is the recruitment, harboring, transportation, provision, obtaining, patronizing, or soliciting of a person for the purposes of a commercial sex act, in which the commercial sex act is induced by force, fraud, or coercion, or in which the person induced to perform such an act has not attained 18 years of age (22 USC § 7102).
Bonded Labor (Debt Bondage): is "made to look like an employment agreement but one where the worker starts with a debt to repay – usually in brutal conditions – only to find that repayment of the loan is impossible. Then, their enslavement becomes permanent."***
Involuntary Domestic Servitude: is "the seemingly normal practice of live-in help that is used as cover for the exploitation and control of someone, usually from another country."****
Child Labor and Soldiers: is the enslavement of children or "the sale and trafficking of children, debt bondage and serfdom and forced or compulsory labour, including forced or compulsory recruitment of children for use in armed conflict; prostitution; the use, procuring or offering of a child for illicit activities, in particular for the production and trafficking of drugs; and work which, by its nature or the circumstances in which it is carried out, is likely to harm the health, safety or morals of children."*****
Education to Empower & End Human Trafficking
We are working to get a common core approved curriculum into our school systems to empower those who are of the most vulnerable ages by giving them knowledge on how to prevent trafficking and be able to help others out of it. Also we are working together with local law enforcement, the Stark County Juvenile Task Force, and other local organizations to educate area businesses, churches, and the community to get the word out about what is going on right in our own backyards.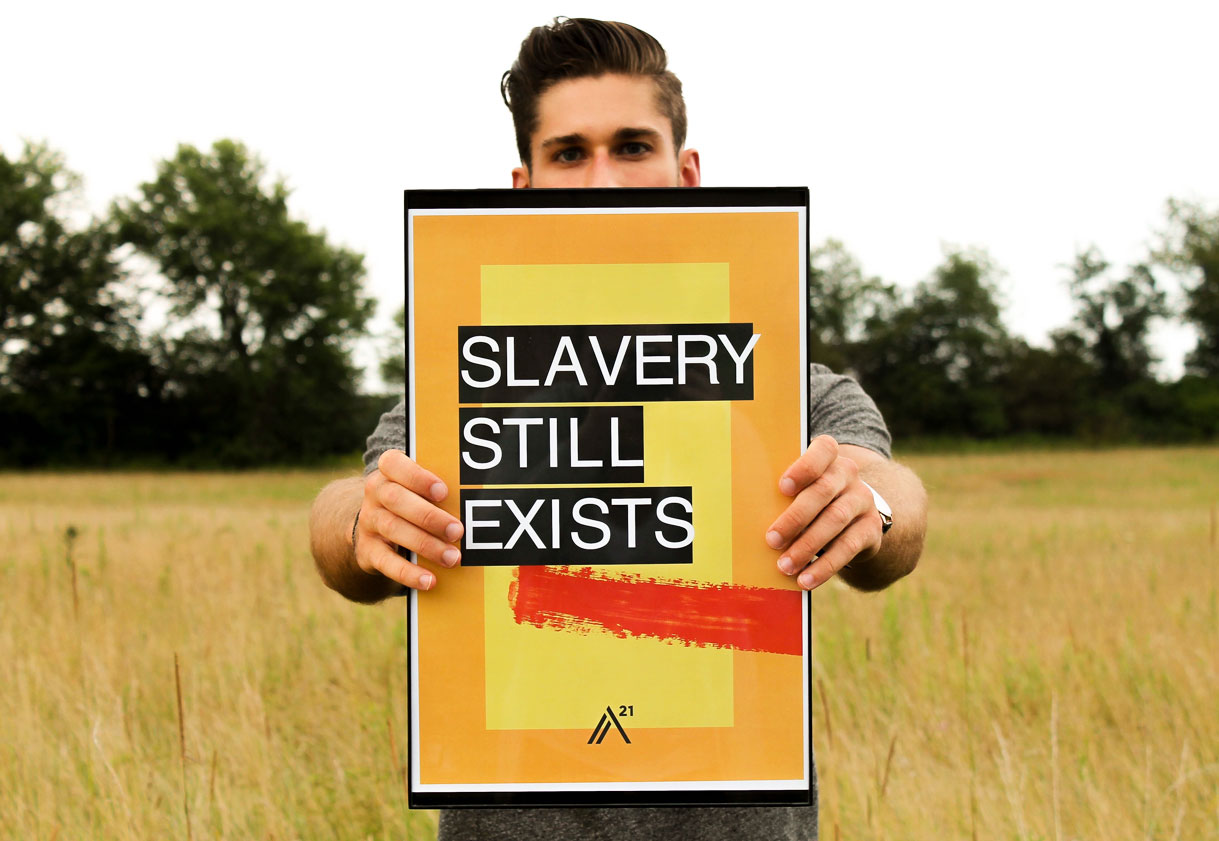 Who Are The Victims of this Modern-Day Slavery?
Girls certainly seem targeted the most, however there is no specific gender exempt from this tragedy. A large number of boys and LGBTQ children/teens are trafficked as well. Targeted ages range from 8-18 years old, and even upwards of 60s-70s. Runaways, homeless, and foster children, as well as someone who is struggling with an addiction or dealing with depression, are also victimized. Those who may be easily manipulated are vulnerable.
Signs of Trafficking
Human Trafficking is slavery. Who are the traffickers?
Men and women of no specific race. People who look just like you and me.
People that you would never even guess.
Common Work and Living Conditions that are signs of traffickings include: The victim is not free to leave or come and go as he/she wishes. The victim is in the commercial sex industry and has a pimp/manager; Is unpaid, paid very little, or paid only through tips; Works excessively long and/or unusual hours; Is not allowed breaks or suffers under unusual restrictions at work; Owes a large debt and is unable to pay it off; Was recruited through false promises concerning the nature and conditions of his/her work. There are typically high security measures that exist in the work and/or living locations (for example: opaque windows, boarded up windows, bars on windows, barbed wire, and security cameras)
Poor Mental Health or Abnormal Behavior:
Is fearful, anxious, depressed, submissive, tense, or nervous/paranoid
Exhibits unusually fearful or anxious behavior after bringing up law enforcement
Avoids eye contact
Poor Physical Health:
Lacks medical care and/or is denied medical services by employer
Appears malnourished or shows signs of repeated exposure to harmful chemicals
Shows signs of physical and/or sexual abuse, physical restraint, confinement, or torture
Lack of Control:
Has few or no personal possessions
Is not in control of his/her own money, no financial records, or bank account
Is not in control of his/her own identification documents (ID or passport)
Is not allowed or able to speak for themselves (a third party may insist on being present and/or translating)
Other:
Claims of just visiting and inability to clarify where he/she is staying/address
Lack of knowledge of whereabouts and/or of what city he/she is in
Loss of sense of time
Has numerous inconsistencies in his/her story
*The signs of trafficking listed above are from https://humantraffickinghotline.org/human-trafficking/recognizing-signs
Ohio is ranked 4th in the United States for human trafficking
And cases have increased 50% since 2014. Globally, the human trafficking industry generates an estimated $150 billion annually – more than Google, Apple and Nike's annual sales combined.
Human Trafficking Statistics
Parents: How To Help Protect Your Children
Know who your kids are hanging out with and where they are at. Talk and listen to your children. Build mutual respect with them and create a safe place for them to talk to you. If kids feel safe with their parents, then they tend to be more honest and open, especially if they are being cyber bullied or trafficked. Know what they are doing and who they are talking to online and establish guidelines for them to follow for their internet usage. Educate yourself and your children and know what is happening in our community and in our schools. There is power in knowledge.
What We Are Doing To Help
We are educating our community and the surrounding areas on the realities of human trafficking in our own backyard (Ohio), the United States, and globally. We are doing this by raising awareness through different social networks and our website, plus attending and hosting events that shine a light on human trafficking. We believe that by doing all of this, TOGETHER we can and will make a difference in the lives of these victims and help to end the demand – forever.